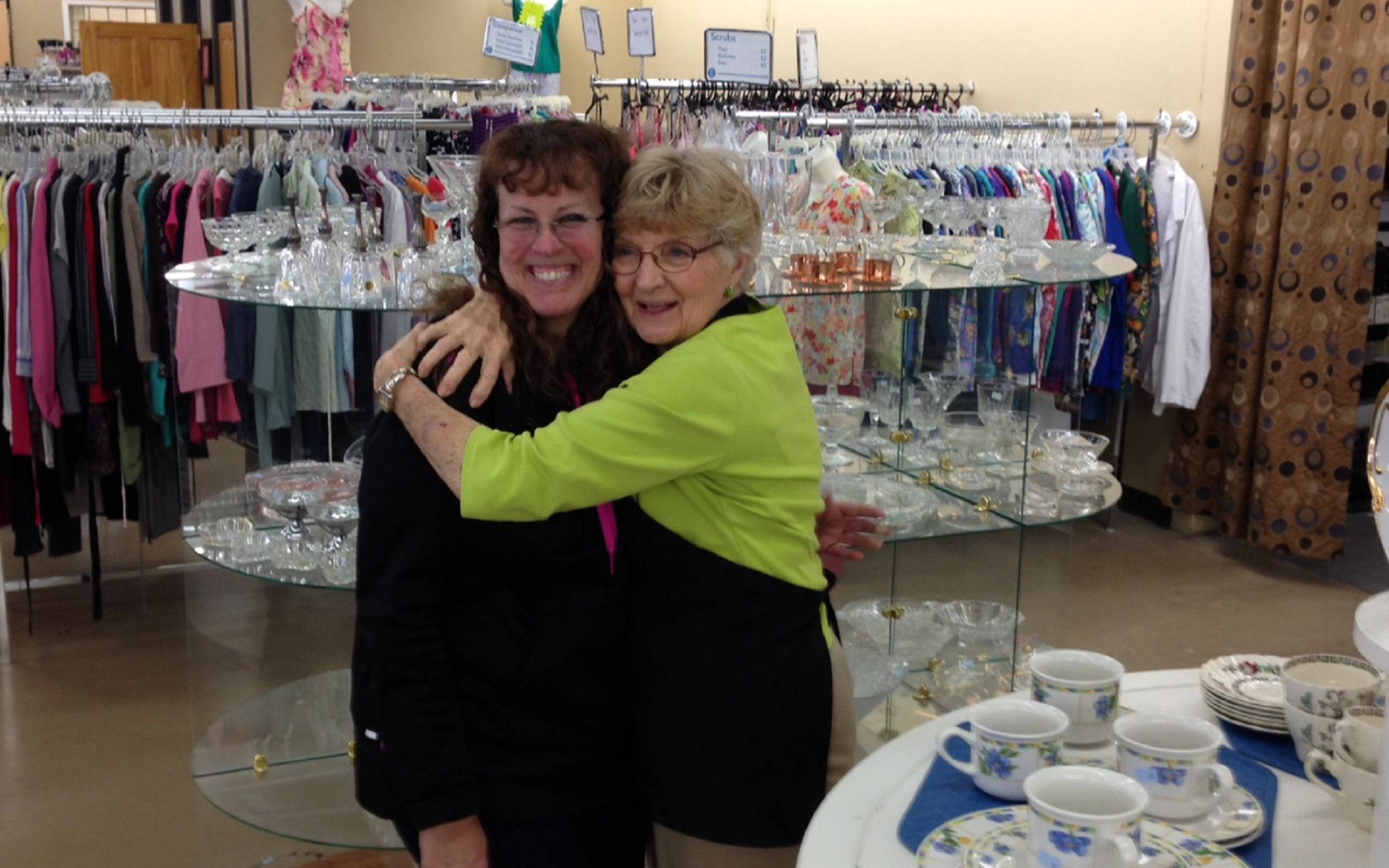 The mishmash of heart, soul, and quirks found at the Hillcrest Hope Thrift Store comes from the numerous dedicated volunteers. They stage gorgeous displays, hang clothing for hours on end, and even count pieces to the many puzzles sold. But why do they give so many hours of their days and weeks to sift through donated goods? Why do they always come back? From their own words, here are a few reasons why they volunteer.
Their Words
Margie Ellgen
How did your volunteer itch develop?
After I retired from Children's Mercy, I knew I wanted to serve an organization that is nonprofit and does good for the needy.
So, how did you choose Hillcrest Hope?
I read in the paper a story about the mission and goals of Hillcrest Ministries to help less fortunate people in my own community build a sustainable and healthy lifestyle for their families. I just knew that was the place for me. The story mentioned they were opening up a thrift store in Liberty. So, I stopped by, filled out a volunteer application, and the rest is history.
What keeps you coming back?
I've been very blessed in my life. I'm continuing to give and that's what I want to do with my retirement.

Dolores Sprague
How did you learn about Hillcrest Hope?
Before I began as a volunteer, I used to throw home parties for a living. A few of the ladies I worked with got me involved in food drives for housing resident. The more I learned about the program, the more I liked, and one day I went into the thrift store, saw a few cute men, and decided it was the place for me.
As a paid employee at the store currently, we notice you still come in on your off days and volunteer. What is the draw?
Honestly, it's fun for me. I feel like I'm contributing to something honest and worthwhile and I really do have fun.
Dan Walters
How did you end up volunteering for Hillcrest Hope?
I started out as a customer. I love to read, pretty much anything, and the prices at the store enabled me to get as much enjoyment out of my hobby as I wanted. The book volunteers, Ron and Sue, got to know me pretty well and eventually they asked if I could help them as a member of their volunteer book team.
What has kept you coming back to give us free labor week after week, year after year?
Well, it's work. It really is. But, I have an absolute blast here. I've made great friends, and we all like to laugh, and we're all a little different, and we prefer it that way.

Debbie Raines
Why do you volunteer?
My heart smiles when I come to the thrift store. Love and laughter are a part of every day.
When the Hillcrest Hope opened the store in Liberty, I was super excited because I wanted to serve with a ministry that gives a hand-up to the working poor.
Lynn Freeman
How did you get plugged in?
I started to volunteer, initially, because I just moved to town and thought it might be a good way to meet new people. I stuck around because I really enjoy the work that I do.
Cherry Schmidt
How long have you volunteered with Hillcrest Hope?
As of April 23rd, Brenda Kirkendoll and I will have been here 5 years. I like it here because I'm doing good things for people in my own community, and I'm doing it with good friends.

Kathleen Carter
How did you begin your volunteer journey?
I started as a community service worker. After working through my hours needed to satisfy my traffic ticket problem, I realized I genuinely missed being at the store. I went back and asked if I could join as a volunteer, and I was shocked they said yes! Years later, I'm still here running the Linens department, and someday soon, I hope to convince Ryan to let me do Toys and Purses.
The Take-Away
Whether you are looking for a way to fill some extra hours, meet some new friends, uncover some treasures of your own, or simply complete some community service hours, this is the place for you. We love the uniqueness of each and every volunteer that walks through our doors. So, try it out. Spend a day with us at the store. You can help support the transformational housing program of Hillcrest Hope and bring your friends along too!
You don't even have to wait. Get plugged in by clicking the button below now. Join the fun!