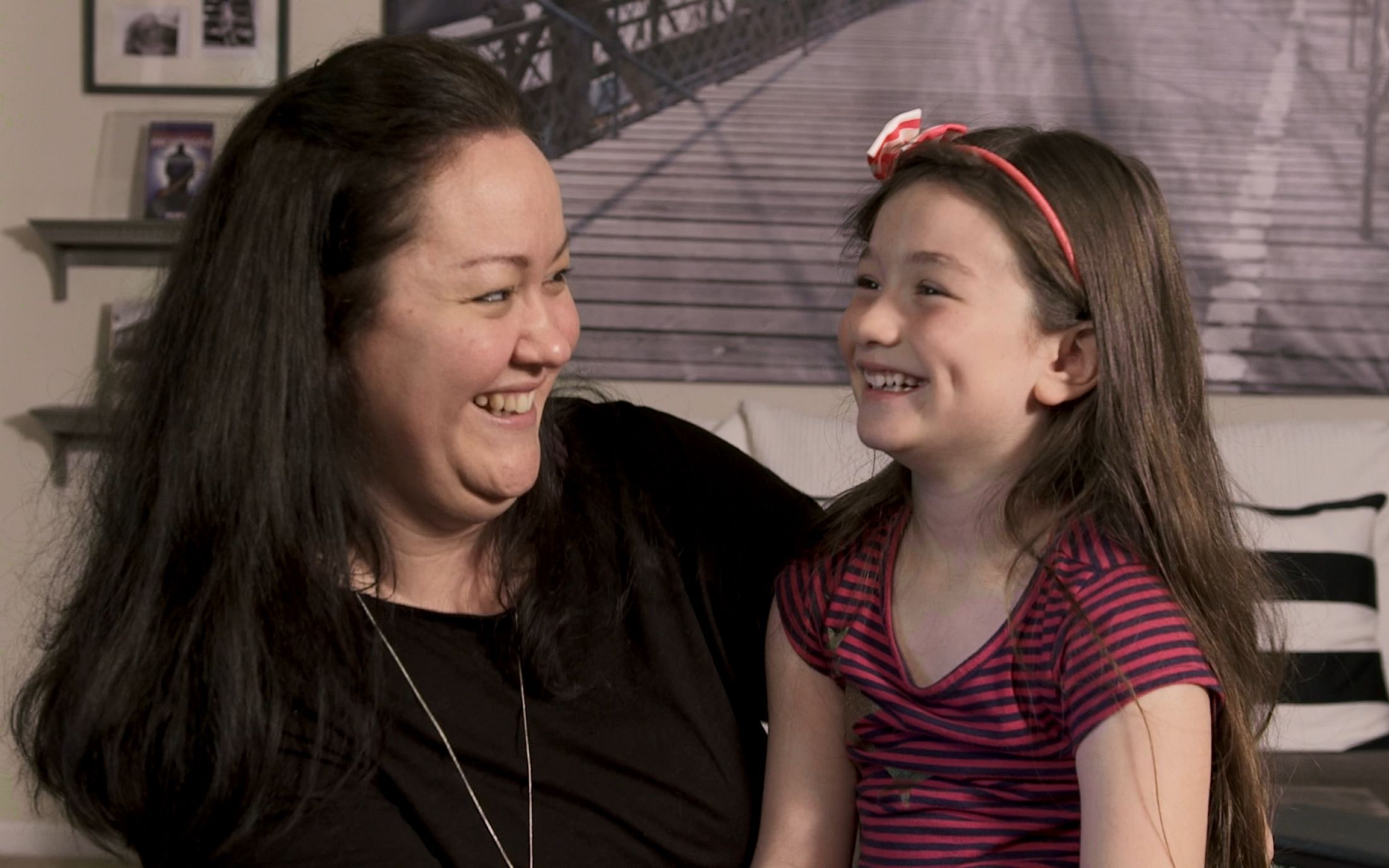 Alicia and her daughter, Lilly, recently graduated from the Hillcrest Hope program and now live in a place of their very own. They completed the transitional housing program and then pursued the opportunity to live in our graduate housing, allowing them to find stability, security and a future. Alicia tells her story.
I wish I could press play for you . . . there was a picture slideshow going through my mind when I was asked to share our story of living at Hillcrest Hope Transitional Housing. My name is Alicia, and I am a 32-year-old single mom of Lilly, who just turned 4. I grew up in and out of foster care; my mom struggled with mental illness, alcoholism, addiction and was physically abusive to me on a regular basis. I eventually graduated out of foster care after my senior year of high school as a ward of the state. I am also 6 years clean and sober from my own addiction, and I am determined that Lilly will have a very different upbringing.
My daughter Lilly has the biggest dimples that will melt you, and she knows it. She is a kind-hearted child that loves other kids and is beautifully goofy - her laugh is contagious. She loves to read and will sit in her tent with her books and purple guitar that she recently got for her birthday from a Hillcrest Hope donation.
I have worked for two years at a drug and alcohol assessment center that helps individuals get into drug and alcohol treatment, as well as mental health intensive case management services. I talk with homeless individuals on a daily basis. Homelessness has many shades and situations. More than you may think.
We moved into Hillcrest Hope Transitional Housing May 13, 2015, after our apartment became uninhabitable. What I now call "Apartment Armageddon" can be described as follows: upstairs apartment toilet overflowed for hours, tarps, holes, bugs, more bugs, powder, insecticides, asthma, coughing, ER visits, vomiting, crying, bugs, clothes in trash bags, lost furniture.
There I was, working full time, but had no money saved for emergencies. Lilly and I had nowhere to go to live, and I felt like a complete failure as a mom. It was a gut-wrenching hopeless pain - the kind of pain where you go away from your child to cry because you don't want them to take on those kinds of emotions at such a young age. For me, in our studio apartment, it was the bathroom floor.
Without a Hillcrest Hope graduate named Dani and how she believed in her heart that I would appreciate the opportunity, Lilly and I would still be struggling. You know that saying "it takes a village" . . . well I don't know about a whole village, but repeatedly in my own story it takes one person at a time willing to encourage and give hope. Then Sherry, a wonderful woman I work with, gave me a newspaper article about Hillcrest Hope Transitional Living. I prayed. (Okay, Lord, I HEAR YOU!)
I was accepted to move into a church-sponsored apartment. I was about to lay out my life for the case managers, resident manager, and my budget counselor to inspect and redirect. Yet, I was told, "We are only asking for a season of your life - 90 days." The commitment and the sacrifice were deemed well worth the reward from the very beginning.
When Lilly and I moved in our first night, I felt shell shocked and defeated. I was as physically tense as one can be and we had both been very sick from the previous apartment conditions. Heather, the on-site resident manager, has a gentle heart, but she means business. I recognize today that could not have graduated without her support. I got to be her literal neighbor, and I felt safe knowing Lilly's dad would never get through her protection. It is such a good and secure feeling to know we are all in good hands with a resident manager who in her whole heart wants every family to grow and succeed in the program and life beyond it.
That first night, for the first time, Lilly had a room of her own. We were safe and ready to begin the program.
Shortly after we moved into Hillcrest Hope, I was needed to attend court for the order of protection I filed against Lilly's father. My case manager Faith, who hardly knew me at the time, went with me. She said I didn't have to do it alone, and she honestly showed me what true love and support is. Faith is one of the most open and warm-hearted individuals I have ever had the blessing of knowing, telling me the truth and also remaining patient as I came around to the truth.
Then I gave up complete control of my finances over to a wonderful woman named Julie. Would that intimidate you? Think about it: you are a grown adult agreeing to only do with your money what another adult allows you to. It isn't easy, but when the student is ready the teacher will appear. Julie is an amazing person who took the plunge to serve at Hillcrest Hope as a Budget Counselor. I learned so much about myself, my parenting, my habits, and my finances through this. If you give up control, you will grow.
When Christmas time arrived, it was as if a toy truck had pulled up. We were showered with toys, a handmade Frozen blanket, an expensive microwave, other kitchen items, needs and wants. It was AMAZINGLY UNEXPECTED! I was in tears!
Hard decisions are made while living at Hillcrest Hope, but they are for the better. You are not alone in the process. There's love and support. Lilly has become quite the little helper and has learned a lot herself. We experienced healing through the staff of Hillcrest Hope and so many others that give of the time, energy, wisdom, talents, and resources to provide for families like mine.
I have been able to save significantly for our emergency fund. The amount is in the thousands, but the spiritual growth was far more than I expected and is exactly what is needed to do well. We are now moving into our very own two-bedroom apartment. I am so excited and a little weary, but I have skills now that I didn't have before. I have support. I have a church again. I have Hope again. God is amazing; to Him be the Glory!
Jeremiah 29:11 "For I know the plans I have for you," declares the LORD, "plans to prosper you and not to harm you, plans to give you hope and a future."